No. 36 — Play/Pause ⏯️ My phone stuck its tongue out 😝 Wingspan
A little break
My name is Linda. I write a (mostly!) bi-weekly newsletter about computer science, childhood and culture - and there are 9 617 of you listening. If you enjoy this issue, please share it with anyone you think may find it useful.
---
Woops.
So both my plans the bookclub and for writing this newsletter went a little awry. Apologies. I'll try to pick up the publishing cadence again and see if I could restart the book club a little later in the year - the people who signed up are a marvellous bunch and I'd very much love to experiment more with you.
Meanwhile, the spring is here and even the Substack editor looks different and new.
The weird thing that happened during the pause was that the subscriber numbers started going up. (It's a well known phenomenon that every time one publishes, one looses subscribers). I haven't much paid attention to any growth curves, I feel like the more uninterested people unsubscribe, the more intimate party the rest of us will have.
But now we have newcomers - so hi, hello, welcome! Drop a line below to introduce yourself, or see the Hello Ruby archive.
---
Another thing I've missed: working directly with children and their thoughts. With the playground project I've managed to luckily run a few in-person sessions with kids this spring and they've offered me so much to think about.
I have lots of thoughts on playtesting and ideation with kids, not all of them overly enthusiastic. Ask a kid to draw/imagine their dream playground and you'll get delightful, physics-bending structures, impossible creatures and more swings. Always more swings. But it's not something that can actually inform a design process. At the same time making sure children are heard and engaged in the planning process is of course a priority.
With the computer playground project we ended up taking a middle route. I asked roughly 400 students between ages seven and eleven to write and draw their ideas around physical playgrounds and digital playgrounds.
The children were asked to think about the most fun they've had on a playground, the most fun they've had on a computer or phone. To remind themselves of something funny that has happened on a playground, and then on a computer. To remember something scary that happened to them on a playground and something scary that happened on a computer. And to think about something they've built on a playground - and on a computer.
Instead of positioning digital and outdoors play as enemies, the work tries to navigate what the similarities and differences are between these two worlds.
Some early observations:
Best things in parks and computers were surprisingly simple. Gaming was a huge part of everything that happens on a computer. Playing happens in a park. The children got a bit confused when I asked could one play on a computer or do gaming in a park. (In Finnish we have two distinct words for this: pelaaminen and leikkiminen). Playing. Communication. Videos. TikTok. YouTube. Smiling. Pokemon Go. Animal pictures. Listening to music. Map application. Taking time. Drawing. Roblox. Whatsapp. Coding. Among Us. Swinging. Climbing. Trees. Football. Sliding. Running. Catch, you're it. Eating snacks. Building a hut. Ball games. Sleeping. Water balloons. Rocking. Lounging. Singing. Playing. Bouncing. Snacking. Gossiping. Running.

The scariest things have definitely moved from playgrounds to phones. Children started to talk in hushed tones about emergency call numbers, horror videos, meme text message chains and too scary videos. The playground experience seems very innocent - bees, a few big boys, adults misbehaving. Scary video. Almost broke my phone. A man threw sand on a baby. Perrywise. Falling out of a swing. Dark slide. When I was videoed without knowing. Zombie ad. Big boys took over the park. Squid games. When I almost didn't make it to the toilet. Scary messages arrived at night. A drunk man. The bees.

Funny things in a park happen to oneself: I fell from a babyswing. I dropped my hat into a puddle. Online things often happened to others: I ate my brother in a Yoshi-game. This is anecdotal of course, but I would love to understand the phenomenon better. Falling into a puddle. Rolling down the hill. Drinking dirt water. Falling out of a swing. Trolling a friend. Funny picture. Got stuck in a box. Picture of a monkey butt. Making mom annoyed. Phone falling into the ocean. My phone stuck it's tongue out.

Building happens in playgrounds and parks - and joyfully it wasn't always easy to tell what happened in the physical and what in the digital realm. Old fashioned city. Snow castle. Sand castle. Igloo. Snowball. Tacos. Pyramide. Christmas tree. Secret place. Avatar. A bed. Snow dog. Tent. Game world. Castle. Zoo. Snowman. Minecraft. Geometry game.
If you want to run a similar activity with kids you know and classrooms, you can download the worksheet below. I would love to see what kind of things kids from other cultures come up with.
---
Linked List
In computer science, a linked list is a linear collection of data elements whose order is not given by their physical placement in memory. But here it is a selection of things I've been reading lately.
---
Classroom
I'm hoping to surface and share stories from all of you and I'd love to see your creations! Here are a few teachers using Ruby in creative, fun and inspiring ways:
These Ruby drawings made my day!
I love the proud faces here.
And this wall of paper doll/dresscode activities is so impressive. (Here's the downloadable version).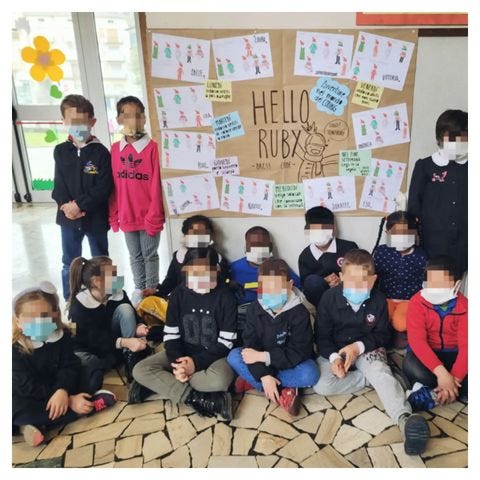 ---
Looking for more? Read the Hello Ruby archive →